Santa Fe is a city rich in history and culture. First a small Pueblo Indian settlement, Santa Fe was designated a colonial capital by the Spanish in 1610. Not until the mid-1800's did the first Anglo settlers arrive from the east.
Since then the three cultures have simultaneously mingled and yet kept their individual identities. Today "The City Different" is renowned
for its art, architecture and cuisine.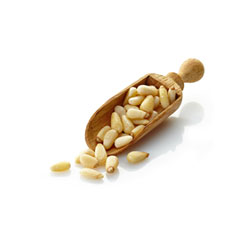 Much like the city itself, Santa Fe Culinaria has blended the culinary heritages of the Native American, Spanish and Anglo cultures to
create a delicious, gourmet pancake mix, unlike any you've tasted before.
We hope you enjoy this special mix of blue corn meal, unbleached wheat, oat and soy flours, and, of course, whole piñon nuts.
To Prepare:
Preheat griddle to 350 degrees. Grease lightly with oil. Griddle is ready when small drops of water bounce off its surface.
Combine in bowl:
1 cup pancake mix

1 egg slightly beaten

1 tablespoon oil

½ to 2/3 cup of milk †
Stir until lumps disappear. Let sit for a few minutes. Bake on griddle, turning when bubbles form on the surface of the pancake. Serve with syrup and butter, or just as they are.
†
Thicker Batter Makes Higher, Lighter Pancakes
.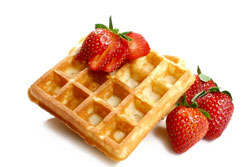 Waffle Recipe:
Our pancake mixes make wonderful waffles and they freeze well.
Serving Suggestions:
Our pancakes and waffles taste great served with the traditional topping of maple syrup and butter. Try any of your favorite syrups.
For a change, serve with a handful of fresh berries and a dollop of whipped cream or yogurt.
If you're adventurous, try an old frontier favorite: top our waffles with cream and sugar. (2% milk will do nicely.)
If you want to avoid the extra calories, our pancakes and waffles are delicious without any additional enhancement. And they make a great leftover snack.